The Crypto Book You Don't Buy
Law Of Attraction & Effection: The Secret Ingredient to Wealth Creation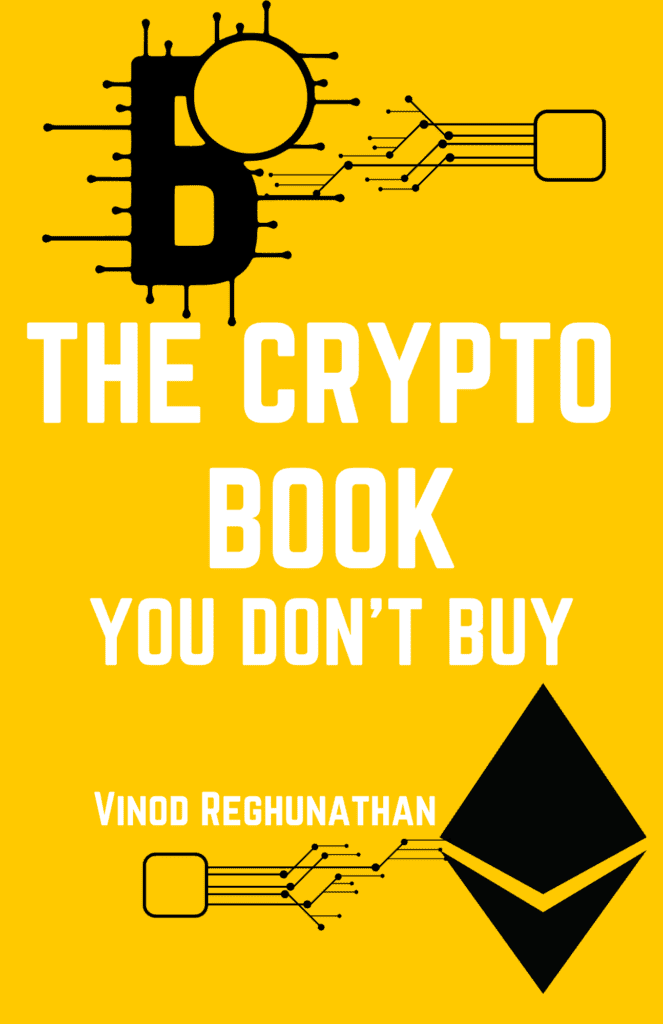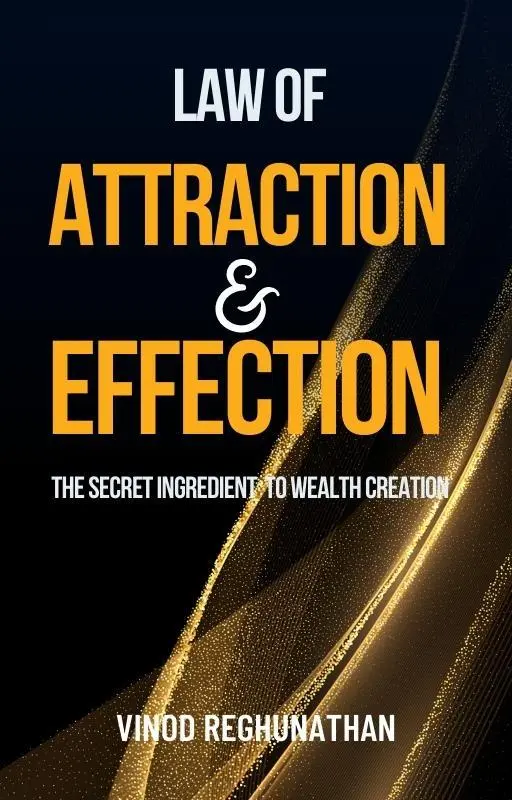 In a world driven by Cryptocurrency frenzy, where everyone seems to be chasing the next big thing, there is a secret that few are willing to reveal. Welcome to "The Crypto Book You Don't Buy," a mind-bending journey into the untold truths of the crypto world.
Vinod Reghunathan, an Internet Entrepreneur with decades of experience, unveils the hidden wisdom that can save you from costly mistakes and guide you towards true success. Buckle up as you embark on a rollercoaster ride through the highs and lows of the crypto market, exposing the myths, the pitfalls, and the strategies that truly matter.

But this book is not your typical guide to buying and selling cryptocurrencies. It's a wake-up call, a call to action, a call to resist the herd mentality and think for yourself. With captivating storytelling and insightful analysis, Vinod takes you on a thrilling adventure, challenging your beliefs, and transforming your perspective on wealth creation.

Discover the art of strategic investing, harness the power of informed decision-making, and learn how to navigate the volatile crypto landscape with confidence. Vinod shares his secrets, learned through years of trial and error, offering a blueprint for success that goes beyond the superficial hype.

"The Crypto Book You Don't Buy" is not just a book; it's a catalyst for change. It will empower you to make smarter choices, avoid common pitfalls, and seize opportunities that others overlook. Whether you're a seasoned investor or a curious newcomer, this book will transform the way you approach the crypto world.
So, are you ready to step into the realm of crypto with your eyes wide open?
Are you ready to break free from the herd and embark on a journey of financial independence?
If so, click the Buy Now button and join Vinod Reghunathan on an exhilarating adventure that will redefine your understanding of wealth and the limitless possibilities of the Crypto Universe.
"The more lives you affect in an entity you control, in scale and magnitude, the richer you will become." MJ Demarco in Millionaire Fastlane
The Law of Attraction & Effection is an innovative and life-changing new wealth generation, productivity improvement and personal growth strategy that harnesses the power of the Law of Attraction and amplifies entrepreneurs' and small business owners' incomes and outputs tremendously by infusing Law of Effection principles, which have been used to build billion-dollar tech companies like Apple, Google, and Facebook / Meta.
Author and high-profile digital entrepreneur Vinod Reghunathan draws on over 20 years of experience teaching law of attraction principles and wealth management skills as a consultant, and advanced study of Law of Effection and personal investment strategies to offer you a lethal combination of business model generation, market scale magnification and powerful positivity and self-confidence practices that can be employed to yield eye-opening results by any individual or business, anywhere in the world.
In this revolutionary, but practical business growth and personal improvement book, you will learn:
The Law of Attraction 101 – How you can use the high-profile personal success strategy that has been utilized consistently for over 100 years to make ordinary people millionaires and many individuals with prior financial problems wealthy

How to use the Law of Effection to scale your business by orders of magnitude, find new markets for your products or services, and increase your personal wealth creation quickly and consistently over time

How to take action with the combination of these two powerful laws, so that you will have more power and control over your life and destiny

How to use the Law of Attraction and Law of Effection to live your best life, with improved health, financial freedom, and better relationships
The Law of Attraction & Effection is a time-tested, real-world success mindset that anybody can use to overcome procrastination, self-doubt and low self-esteem, and start building the life that you have always wanted, so join Vinod today to start employing these game-changing principles now, so that you can start seeing impressive results immediately.
The law of attraction works universally on every plane of action, and we attract whatever we desire or expect…Determine resolutely to expect only what you desire, then you will attract only what you wish for." – Ralph Trine