AI Art
AI has also made significant strides in the field of art, with many applications being developed that allow artists to create new forms of art and explore new creative possibilities. Some of the top AI art apps with examples include:
DeepDream: DeepDream is a computer vision program created by Google that uses deep learning algorithms to generate psychedelic and surreal images. Users can upload their own images to the program and see how the algorithm interprets and transforms them.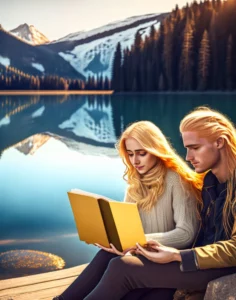 Prisma: Prisma is a mobile app that uses neural networks and deep learning algorithms to transform photos into works of art in various styles, such as impressionism, cubism, and pop art.
Artisto: Artisto is another mobile app that uses AI to transform videos into artistic animations in various styles, including pointillism, oil painting, and watercolor.
GauGAN: GauGAN is a machine learning-based app that allows users to create photorealistic landscapes by sketching out the basic shapes and adding labels for elements such as water, trees, and rocks.
AIVA: AIVA is an AI-based music composer that uses machine learning algorithms to create original compositions in a variety of genres, including classical, pop, and film scores.
These AI art apps demonstrate how technology can be used to push the boundaries of creativity and enable new forms of artistic expression. 
The Business of AI
The business of AI is a rapidly growing industry that encompasses a wide range of activities, including research and development, software and hardware development, consulting, and deployment of AI solutions. Some of the main areas of focus in the business of AI include:
Machine Learning as a Service (MLaaS): MLaaS is a cloud-based service that allows companies to access machine learning algorithms and tools without having to develop their own infrastructure. This service provides a more cost-effective and flexible solution for businesses looking to integrate AI into their operations.
AI Software Development: AI software development involves building and developing software applications that use AI algorithms and techniques to improve business processes and decision-making.
Robotics and Automation: AI is being used to develop robots and other automated systems that can perform tasks that are dangerous or repetitive for humans, such as manufacturing, logistics, and transportation.
Predictive Analytics: AI is being used to develop predictive analytics tools that can help businesses make more informed decisions based on data analysis and pattern recognition.
Natural Language Processing (NLP): NLP is being used to develop chatbots and virtual assistants that can interact with customers and provide customer service.
Healthcare: AI is being used to develop new diagnostic tools and treatments for various diseases, as well as to improve medical imaging and patient monitoring.
Business of AI is a rapidly evolving industry that offers many opportunities for companies to improve their operations, gain a competitive advantage, and deliver new products and services to their customers. 
Risks and limits of AI
While AI has the potential to revolutionize many aspects of our lives, there are also risks and limits associated with this technology. Some of the main risks and limits of AI include:
Bias: AI algorithms can be biased, just like humans, due to the data they are trained on. This can result in discrimination and unfair treatment of certain groups of people.
Job Displacement: AI has the potential to automate many jobs, leading to job displacement and economic disruption. While AI may create new jobs, there may be a skills gap that prevents workers from taking advantage of these new opportunities.
Cybersecurity: As AI becomes more integrated into our lives, it also becomes a target for cyber-attacks. AI systems can be hacked and manipulated, leading to serious consequences.
Lack of Human Judgment: AI systems lack human judgment and may not be able to make ethical decisions or take into account the nuances of human behavior.
Limited Contextual Understanding: AI systems can lack context and may not be able to understand the full context of a situation, which can lead to inaccurate predictions and decisions.
Limited Creativity: While AI can be used to generate creative ideas and solutions, it may lack the originality and intuition of humans.
it is important to consider these risks and limits when developing and implementing AI systems. To mitigate these risks, it is essential to develop transparent, explainable, and ethical AI systems that take into account the diverse needs and perspectives of all stakeholders. Additionally, humans should remain in the loop when it comes to decision-making and oversight of AI systems.
AI has come a long way in recent years, and it has the potential to revolutionize many aspects of our lives, including business, healthcare, art, and more. AI applications are being developed in various fields, from natural language processing to robotics and automation, and are providing solutions to complex problems that were previously difficult or impossible to solve. While there are risks and limits associated with AI, with proper development and oversight, AI has the potential to improve our lives in countless ways. As AI technology continues to evolve, it is important for businesses, individuals, and society as a whole to stay informed and adapt to the changes that AI brings.